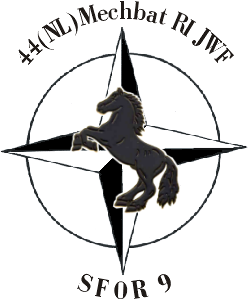 44 (NL) Mechbat Regiment Infanterie Johan Willem Friso SFOR 9
November 2000 - Mei 2001
---
PHOTO-INDEX
---
Click on the hyperlinks to move to a certain photo-index.

If any of the pictures violate a copyright or are considered offensive by the people in it, please let the webmaster know at sfor9@vrenken.com. The pictures concerned will be removed.
This page was last updated on 12-06-01
---
Disclaimer
(c) 2001 Spenken. Any information displayed on this page is the sole responsibility of the webmaster. This site does NOT represent the Royal Netherlands Army, the Dutch Ministry of Defense, or officials of 44 (NL) Mechbn RI JWF SFOR 9.